Coronavirus: 'It's make or break for our business now'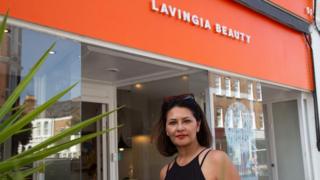 A decision on Friday to put lockdown easing on hold in England has caused confusion and dismay for businesses.
The delay means that places such as casinos and bowling alleys, which had been due to open on 1 August, will have to wait at least two weeks more.
Firms in the beauty sector, already angered about delays in being able to fully open, are stunned by the news.
"We're in absolute shock," Gita Lavingia, owner of Lavingia Beauty, Clapham, south London told the BBC.
"We literally found out this afternoon, with less than 24 hours' notice, and we have clients booked in for tomorrow."
Ms Lavingia says that 80% of her business is focused on facials. Because the treatments involve close contact with a customer's face, the continuation of restrictions means that her firm will have to cancel most of the bookings it has lined up.
"We lose £800 in revenue for each day we cannot fully-operate. And many of our therapists are self-employed, so they are earning nothing at all," she added.
Ms Lavingia doesn't understand why beauty salons cannot be fully-operational: "We've always been very careful with health and safety standards, which are crucial protocols in the beauty industry, and since the pandemic, now we have extra precautions in place."
She stressed that clients had provided feedback that they "felt safe" to return to the clinic, and therefore they should be allowed to do so.
The beauty salon owner said she feels like there is a "never-ending" cloud hanging over her – Lavingia Beauty owes approximately £8,000 in rent since March, and there is an outstanding VAT bill on the horizon that will need to be dealt with at some point too.
The anxiety that she and her staff feel affects the atmosphere at the salon, because clients come to relax and get away from their own troubles, and they can sense that not all is well under the surface.
"It's make or break for our business now – there's a big question mark about how long we can stay open for."
'A hammer blow to business'
The move has come when many firms were "starting to get back on their feet", said the British Chambers of Commerce.
BCC co-executive director Claire Walker said: "While tackling the public health emergency must be the priority, these announcements – made at short notice – will be a hammer blow to business and consumer confidence at a time when many firms were just starting to get back on their feet.
"Business communities need as much clarity as possible from government if they are to plan ahead and rebuild their operations in the coming months."
The National Hair and Beauty Federation also reacted with dismay.
Treatments on the face, which were excluded when beauty salons were allowed to reopen in England on 13 July, were due to be given the go-ahead from Saturday, but this has now been postponed.
"We are extremely disappointed that this last-minute decision has been made," the federation said. "We will continue to push for financial support following this further setback."
'Safety first'
The CBI said the news would be "a real disappointment for some businesses". "But firms know that public safety comes first." added the CBI's chief UK policy director, Matthew Fell.
Both the BCC and the CBI called for extended support and targeted measures to help businesses affected.
"Businesses will continue to do what is necessary to avoid an infection spike," said the CBI's Mr Fell.
"Delayed reopening will unfortunately lead to even more financial pressure for some companies. So there may yet be a need for more direct support to shore up cash flow, including extended business rates relief."
UK Hospitality said the delay was "devastating news" for hospitality businesses and leisure venues that had hoped to be back in business this weekend.
"They have spent a lot of time and money, which they can ill afford to lose at the minute, getting ready to reopen. For those people who work in those sectors, the security of their jobs remains uncertain," said its chief executive, Kate Nicholls.
"We now need clear communication to ensure that consumer confidence is not damaged further. We are also going to need further support for those businesses that cannot reopen."
Federation of Small Businesses national chairman Mike Cherry said the announcement would come as "a massive blow to thousands of small firms, soon-to-be newlyweds, artists and sportspeople".
"However, we were warned that restrictions will need to be responsive to any resurgence in transmissions," he added.
"What we absolutely have to avoid is a scenario where whole swathes of the small business community – not least those in the creative industries, tourism and leisure sectors – are wiped out entirely."
The news came in a briefing from Prime Minister Boris Johnson, who said planned reopening for 1 August would be delayed for at least a fortnight.
That means venues such as casinos, bowling alleys and skating rinks must remain closed until 15 August.
Indoor performances will also not resume and pilots of larger gatherings in sports venues and conference centres will not take place, while wedding receptions of up to 30 people will not be permitted.
Separately, face coverings will be compulsory in more indoor settings where people are likely to come into contact with people they do not know, such as museums and places of worship, from next weekend. They are already required in shops and indoor transport hubs.
The prime minister said the rules for face coverings would become enforceable in law from 8 August.