Coronavirus: US economy sees sharpest contraction in decades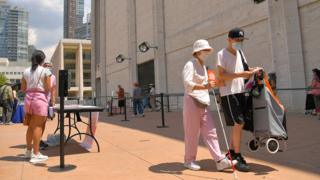 The US economy shrank at a 32.9% annual rate between April and June as the country grappled with lockdowns and spending cutbacks during the pandemic.
It was the deepest decline since the government began keeping records in 1947 and three times more severe than the prior record of 10% set in 1958.
Reduced spending on services such as healthcare drove the fall.
Economists have said they expected to see the sharpest drop in the second quarter, with recovery thereafter.
But as virus cases in the US surge and some areas re-impose restrictions on activity, the rebound is showing signs of stalling.
More than 1.4 million people filed new claims for unemployment last week, up slightly from the prior week for the second week in a row. Other data points to spending cuts and falls in confidence in July.
Job losses
Jerome Powell, the head of America's central bank, on Wednesday warned of renewed slowdown, describing the downturn as the "most severe in our lifetimes".
He urged further government spending to help American households and businesses weather the crisis.
That call was echoed by other business leaders on Thursday as the figures brought into focus the scale of the economic crisis facing the country.
"The staggering news of the historic decline of the gross domestic product in the second quarter should shock us all," said Neil Bradley, chief policy officer at the US Chamber of Commerce, a business lobby group. "This jarring news should compel Congress to move swiftly."
Fed warns of continuing need to protect US economy
German economy suffers sharpest decline on record
The International Monetary Fund has predicted that global growth will fall by 4.9% this year. On Thursday, Germany reported a record quarterly decline of 10.1%, while Mexico's economy also reported a double digit contraction.
Compared with the same quarter a year ago, the US economy contracted 9.5%. Exports and imports were both down more than 20% from a year ago, while consumer spending – the main driver of the US economy – fell 10.7% year-on-year.
'No signs of getting back to normal'
New York City pub owner Anthony LoPorto has been serving drinks at his Bean Post venue since 1994. He's never known it so bad.
After waiting months to re-open, he is now struggling to fill his tables as people worried about the virus or loss of income stay home. It is a drop-off in trade that is magnified across the US – a reason why the GDP numbers were so bad.
"This is now going on for months and we were told that there would be an opportunity for us to start getting back to some normalcy around this time – there's no signs of normalcy whatsoever," he says.
"I have a 'don't stop, won't stop' type of attitude… but it's getting to a point where I'm nervous and I've got to be honest – I'm nervous that even if I continue to go on, what's going to happen with the neighbourhood?"
The more offices that close or keep staff at home, the more the Bean Post's custom dwindles.
"I don't believe in a quick bounce-back at all," he says. "This is a long time that people have not been making money.
"There are nights when there's just nobody around… There's just not enough money in people's pockets and not enough want in people's spirits."
The US has lost nearly 15 million jobs since February, despite strong hiring in May and June. The US census estimates more than half of American adults live in households that have seen incomes cut since the pandemic.
Economists warned it will take years for the US to recover from the devastation.
"Even when the economy saw rapid bounce-back in May and June, the Covid-19 economic shock inflicted so much damage in earlier months that the net result was an economic catastrophe for the second quarter," wrote Josh Bivens, director of research at the Economic Policy Institute.
Congress is debating another economic relief package but it seems unlikely to reach a deal before an emergency $600 supplement to unemployment benefits expires this week, threatening another economic shock.
"The fact that initial jobless claims have risen for a second week is worrying and underscores that the nascent consumption recovery is at risk," said Madhavi Bokil, vice president of Moody's Investors Service.