Low-cost airline Breeze Airways adds flight to West Coast from T.F. Green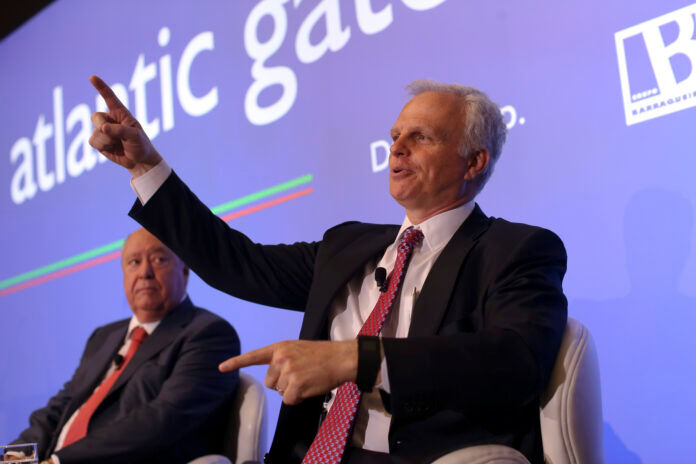 WARWICK – Rhode Island T.F. Green International Airport will have its first flight to the West Coast, as Breeze Airways announced on Tuesday that the airline would be adding five new routes to its Rhode Island service this summer.
The low-cost airline's twice-weekly flights to Columbus, Ohio; Jacksonville, Fla.; Savannah, Ga.; Richmond, Va.; and Los Angeles are scheduled to start in May and June.
The flight from Warwick to Los Angeles will cost $99 one-way, but does not include the cost for checking bags and other travel related services. The flight will be operated with one of the airline's new Airbus A220s.
Gov. Daniel J. McKee, joined by Rhode Island officials, and executives from the Rhode Island Airport Corporation and Breeze Airways, made the announcement at the airport Tuesday morning.
"Today is an exciting day for Rhode Island as we announce a long-awaited nonstop route to the West Coast," said McKee. "With new flights bringing increased access to Rhode Island, we look forward to welcoming more overnight visitors, which means more spending at our local restaurants, more spending at our retail businesses, and more money spent on arts and cultural activities, all supporting thousands of jobs and, in turn, supporting tens of thousands of families across our state."
Breeze Airways began flying from Rhode Island in the summer of 2021 and currently offers three nonstop destinations: Charleston, South Carolina, Norfolk, Virginia, and Pittsburgh, Pennsylvania. With the addition of these five new routes, Rhode Island T. F. Green International Airport now offers 32 non-stop destinations; an increase of 88% since 2016.
Iftikhar Ahmad, CEO and president of RIAC, said, "These five new routes are welcome news for leisure and business travelers to and from our state. We truly appreciate Breeze Airways' continued investment in service to our state and region."
House Speaker K. Joseph Shekarchi said, "This is truly a historic day for the airport. More affordable flights to and from these exciting destinations is good news for Rhode Island's economy and we look forward to continuing a fruitful partnership with Breeze Airways."
Breeze's initial A220 aircraft deliveries will feature 126 seats, including 36 first class seats in a two-by-two configuration, ten extra legroom seats, and 80 standard economy seats in a two-by-three configuration. Breeze Airways nearly tripled its fleet this year from 13 aircraft to 30 aircraft.
David Neeleman, founder and CEO of Breeze Airways, said the new aircraft are a game-changer for the airline. "The Airbus aircraft embodies the Breeze ideal of merging kindness with technology, pairing unrivaled passenger comfort with eco-friendly efficiency. With the A220, Breeze is giving our guests the widest cabin, highest ceiling, largest windows and biggest overhead stowage in this class, while still managing to burn 25% less fuel, with half the noise footprint of past generations."
Breeze Airways offers no change or cancellation fees, and up to 24 months of reusable flight credit. Flights are on sale at www.flybreeze.com and via the Breeze app.
Yesterday's announcement came as the startup discount carrier added 35 routes from 10 more cities including some on the West Coast this summer in an aggressive expansion just as jet fuel prices are soaring to an eight-year high.
Breeze has been flying mostly in the Southeast and East since it began operating last May. Neeleman said the airline will add flights this summer to Los Angeles, San Francisco, Las Vegas and Jacksonville, Florida, among other cities.
(Material from the Associated Press was used in this report)
Cassius Shuman is a PBN staff writer. Contact him at [email protected]. You may also follow him on Twitter @CassiusShuman.

Want to share this story? Click Here to purchase a link that allows anyone to read it on any device whether or not they are a subscriber.