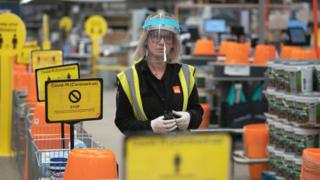 Strong demand for DIY and garden goods during lockdown has delivered a sales boost to the owner of B&Q.
Kingfisher, which also owns Screwfix, said that paint, wallpaper, plants and compost had all proved popular with UK customers.
Like-for-like sales – which strip out new store openings – jumped by 21.6% in the three months to 18 July.
Store reopenings in the UK and France boosted sales, while online sales more than tripled.
Kingfisher's UK stores, as well as those in France, were closed from mid-March due to lockdown measures introduced in an attempt to stop the spread of Covid-19.
Although B&Q's UK stores started reopening in late April, online sales continued to see a huge increase.
The retailer made click-and-collect and home delivery options available and the group saw online sales surge more than 200% in both May and June.
DPD and B&Q owner to hire 7,500 as demand surges
DIY spending splurge helps May sales recover
Retail sales across the UK partly recovered in May, driven by DIY stores and garden centres reopening amid the lockdown.
Sales were boosted by a 42% rise at household goods stores, such as hardware, furniture and paint shops, according to the Office for National Statistics.
Kingfisher said that good weather had also helped sales – in addition to people having more time to spend on DIY improvements while they are spending more time at home.
Despite the recent spike in sales, over the six months to 18 July sales dropped 3.7%.
But based on the recent sales boost, as well as previous cost reductions, Kingfisher expects pre-tax profits for the first half of the year to be higher than forecast.
The group previously said that it would recruit 3,000 to 4,000 more workers, about half of them in the UK.
Kingfisher chief executive Thierry Garnier said in June that the firm's new recruits would be "temporary" during the summer, depending on what happened to demand after coronavirus measures were eased.
The group said in a statement on Wednesday that it would not give guidance for the second half of the year due to "uncertainty around Covid-19 and the wider economic outlook".
During the wider six-month period, Kingfisher's like-for-like sales dropped 3.7%.